Designing for Personal Legacy Planning in the Digital Era
Personal Project with Sherry Wu
September, 2018 | 4 weeks
Digiwise is a app-based solution to digital legacy by providing a personalized digital will making experiences. This project was challenged to tackle the knowledge gap and insecurity to digital legacy planning presented in the general public, as well as to support an efficient system in digital asset management.

How do we start looking into digital legacy ?
I was initially intrigued when I saw this news article about how a couple wanted to request content from their deceased daughter's facebook account. To me, it reflects an interesting problem space between data and ethics. Thus, out of our own curiosity, we started to look into this area and found out that digital legacy actually raised many debates and discussion over the internet. Yet not many product and services are addressing all those complexity and questions raised.

Problem
Some of the direct problems resulted from an unmanaged digital space are: valuable data lost , identity fraud and privacy conflicts. Yet overwhelming policy information and insecurity of plan execution make it difficult for people to start taking initiatives.
Goal
To support a service system in digital legacy planning that provides easy access to required information, simplifies planning steps and empowers decision makings through legitimization.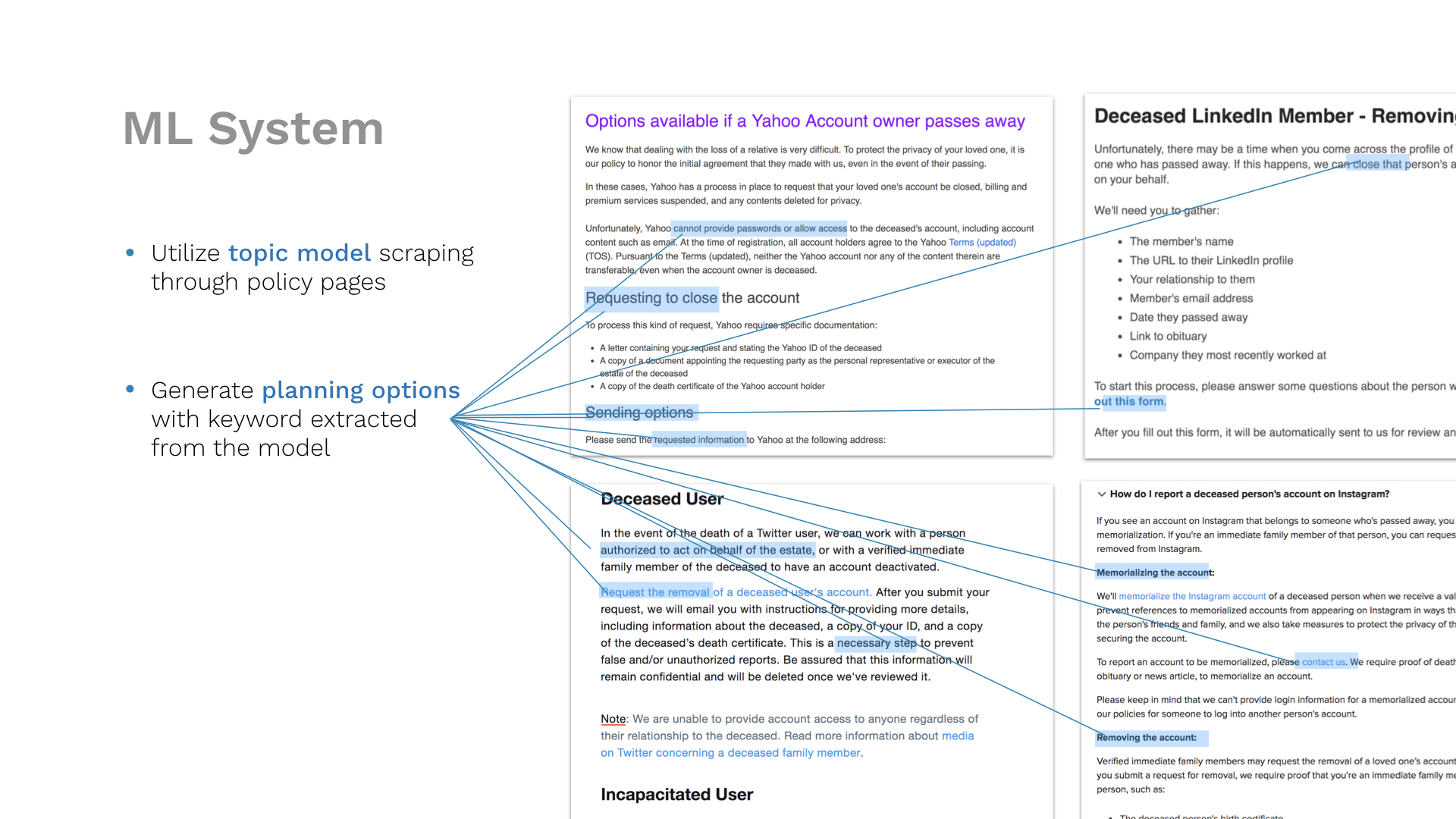 Process - How did we get there
Initial Research
We started our research process from reading academic papers written on this area as well as all kinds of online articles. We wanted to know what are people's concerns and questions in this area and what are some of the works that have been done to address those concerns.

Mechanical Turk Survey & Interview
Moving forward with more research, we started from conducting mass survey through the mechanical turk platform as well as in-person interview to access people's consciousness towards digital legacy and their personal preferences in planning.

Participatory Research
While assuming initiatives are taken, we would like to dig deeper into what are some of the problems persist in the planning process. Thus we conducted a participatory research activity "Plan it Out" . During the research activity, we ask participants to "plan" their assets in 10 mins by matching assets to planning actions, while also think aloud about their decisions.
Synthesis
Drawing insights from our research data, we identified several pain points for the digital legacy planning process, which became our design opportunities.

Ideation
Learning from the painpoints and opportunities identified, we started brainstorming solutions that would target these challenges. We eventually narrowed down to 3 main design solution : Smart Cloud, Password Lock and Digital Will Maker. We then conducted speed dating with 12 users and recorded their feedback.

Design Solution + Scenarios
Base on results from our speed dating session, we eventually choose the digital will making idea since it provide more trust and empowers their own decision making through supporting the legitimization process.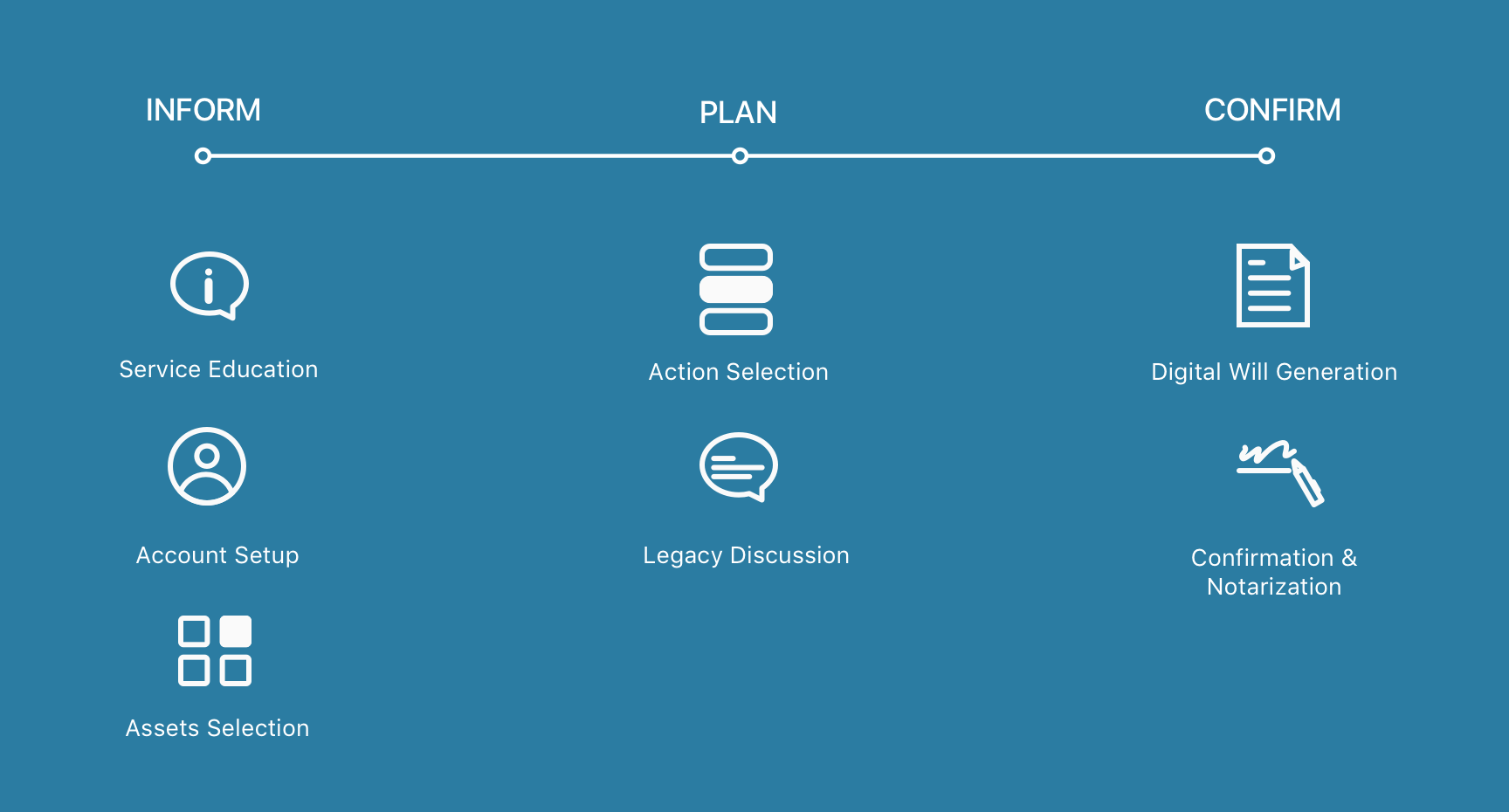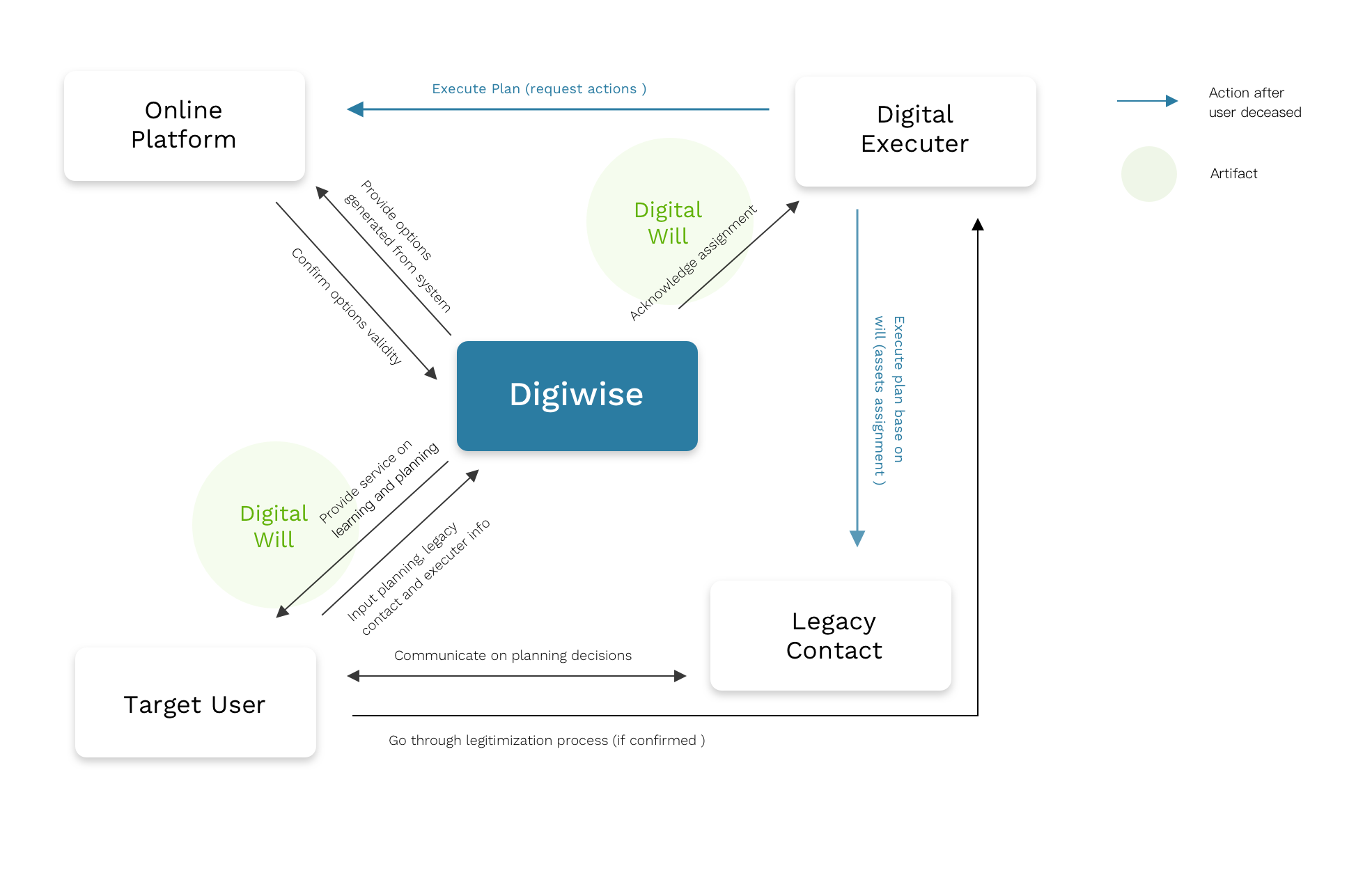 On-boarding + Set up
Since the it will be a new service, we would like to onboard the users by setting their expectations on what will the service will provide them. User will also set up their profile in a intuitive way (occupation, age, assets), and then start planning.
Planning Stage
During the planning stage, user will first see the smart grouped category base on their selection of assets. They can set a default plan for all assets in that category or plan specifically for each asset, choosing from the options system generated.
Export Will
After user felt comfortable making all their planning decisions, they will have the option to export their plan into a legal will. Digiwise will also guide them through the following process of confirming with executer and get legitimized.
UI Iterations + Style Guide
Constraints and Limitation
In terms of implementation, the main constraints in the current system are the ambiguity in platforms policy pages as well as the underdeveloped property law in digital assets. Related Law such as the Fiduciary Access to Digital Assets Act(FADA) have not been passed in each state. Although there are definitely limitations right now, it is reasonable to assume that both areas will development in a positive way in the future.
Take away
For this passion project we worked on mostly in remote, my partner and I set specific timelines and check points to make sure that we are not trapped in one part of the process. we also learned that during the iterative design process, it is important to incorporate evaluative user research, which helped us identify some key features in the final product.